Stand Up For Our Freedom To Fish
It is not just about fishing, it is about protecting our freedoms
Watch our campaign's new television ad "Fish"
Senator Lamar Alexander...announced that the two-year ban stopping the U.S. Army Corps of Engineers from restricting fishing below dams on the Cumberland River, passed first by the Senate and then by the House, has officially become law.
"Now the Corps is required, by law, to stop wasting taxpayer dollars and ignoring elected officials who are standing up for fishermen," Senator Alexander said.
The legislation that became law today prohibits the Corps from implementing existing fishing restrictions for two years, while also delegating enforcement below the dams to state agencies in Tennessee and Kentucky. The U.S. Senate unanimously supported this legislation on May 16, and the House passed it on May 21."
More "Freedom to Fish" videos
More information on "Our Freedom to Fish"
Click here to read more about the "Freedom to Fish Act" becoming law.
Earlier this year the Army Corps of Engineers announced plans to restrict fishing access at the tailwaters of the ten dams it operates along the Cumberland River.
Anglers and local officials across Tennessee and Kentucky worked with the Army Corps of Engineers to develop a reasonable compromise to protect their freedom to fish while ensuring the safety of boaters and anglers on the Cumberland River. Unfortunately the Corps was unwilling to compromise in its decision to restrict all access to the tailwaters.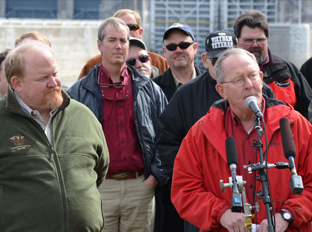 In February 2013, U.S. Senator Lamar Alexander of Tennessee introduced legislation to delay the Army Corps from erecting barriers intended to restrict access to the Cumberland River tailwaters. The "Freedom to Fish Act" is co-sponsored by Senators Bob Corker, Mitch McConnell and Rand Paul. Congressman Ed Whitfield of Kentucky introduced legislation in the U.S. House of Representatives.
The "Freedom to Fish Act" is not just about fishing it is about protecting our freedoms. Sign on to tell the Army Corps of Engineers you want to protect our freedom to fish!
READ MORE ABOUT THE EFFORTS TO PROTECT OUR FREEDOM TO FISH
Join Lamar
Note: Fields marked with an * are required.